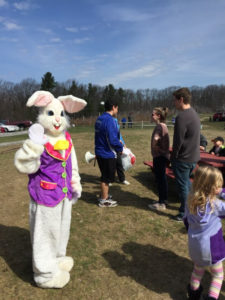 The "Easter Great Gathering", a fun-filled family traditional event since 2011, will be held on Saturday, March 31, 2018 at Red Apple Farm, Phillipston, MA from 8 am to 1 pm, sponsored by the Phillipston Congregational Church of Phillipston, MA.
The 7th Annual Brunch with the Easter Bunny will be held in the barn including Ham, Eggs, Pancakes, Sausage, Home Fries, Toast, Fruit and Beverages being served Cafeteria style. Tickets are $9 for adults, $5 for kid's ages 3 to 10 and Seniors 65+. If you purchase your tickets in advance, you will save $1 each, for tickets call: (978) 939-8901.
Free Egg Hunts will be held for the children at 9, 10 and 11 am (sponsored by the Phillipston Lion's Club). There will be separate Toddler & Preschoolers' Hunts. The Teen Egg Hunt with prizes will be held at 12:30 pm. At "High Noon", an Adult Egg Hunt, with a limited number of tickets being sold, some of the incredible prizes will be Apple, a Fitbit and many more. For the Adult Egg Hunt you must be 18 years of age or over and be present to participate. For advance tickets call (978) 939-5608.
There will be baby bunnies for the children to enjoy. Easter Vendor Fair (inside store and outside) including Sunday School/Youth Group (cotton candy, bunny ears), Easter Raffle Baskets (wide variety), Fresh Cider, Donuts & Coffee, 2017 Phillipston Church Cookbooks, Quilt Raffle "Log Cabin Delight", Face Painting, Pictures with the Bunny and much more.
Come one come all for a full day of family fun!